If you're like me, you've eaten thousands of meal replacement and energy bars that have the consistency of a cardboard box. Most of them taste like those little tree fresheners you put in your car to get rid of the dreaded hiker funk.  It's likely you have come to rest on a select few of tried and true "favorites". Or maybe they're just the ones that you can actually manage to put down.
I'm always on the hunt for something new to silence the belly monster. A couple weeks ago I got an email from Mazama Bar based out of Olympia, WA. Their company name caught my eye, as it's the historically significant mountain name (Mt. Mazama) of what is now Crater Lake, OR. One of the most interesting natural wonders of the world. These guys are a brand new company and are producing, I believe, some of the best bars on the market right now when it comes to taste, quality, and health. They sent me a few bars to try out.
Mazama Bars are nutrient dense and hover around 400 calories each. They are handmade with local Pacific Northwest ingredients, and weigh in at 3.25 ounces each. That's a pretty good horsepower-to-weight ratio, if I do say so myself.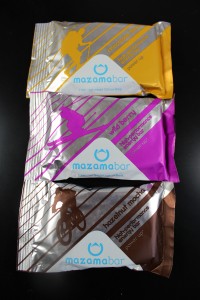 They use whole rolled oats and dates as their main ingredient. Every bar is preservative free and cold-pressed to keep those nutrients from getting scared off by the cooking process. Best of all… No overly processed soy protein isolates. Don't know what those are? Nor did I… Check this article out.
They stated in their FAQ's that each bar has a carb to protein ratio of 5:1. Which, like they say, is actually a pretty decent given the unprocessed nature of the bar. Your body burns carbs first as its primary source of fuel and then it heads onto the proteins. This is why athletes have a protein shake as a recovery drink post workout, so as to not lose muscle mass.
While hiking the Pacific Crest Trail and other long trails, I rely heavily on meal replacement bars as my main source of daily calories. At 400 calories a pop, I can get up in the morning, throw back a meal bar, trail mix for a mid morning snack, meal bar for lunch (while still hiking), afternoon granola, and then a hot dinner over a stove before bed. I can pull off 25-40 mile days because I don't have to stop to cook a meal. No matter what I do, I'm always still at a caloric deficit, this is why I'm excited about Mazama Bars. They have a higher fat content than any other bar I've tried. This gives my body something to burn when I'm out of gas.
They have three flavors; Wild Berry, Chocolate Banana, and Hazelnut Mocha. My personal favorite is the Hazelnut Mocha. I'll be putting quite a few of these away this summer and next ski season. Give them a try!
Stay healthy with good food this summer and your body will take you far! To Order yourself some Mazama Bars, head to their website.