The Oregon Coast offers stunning views and exhilarating trails for mountain bikers. Though many of these trails are only available part of the year, you'll find the experience well worth the wait.
Blue Ridge Trails
The Blue Ridge Trails System offers about 12 miles of mountain biking trails. You will find concrete and bridges spanning the wettest areas of the trail. However, this area is still inaccessible for much of the year. Plan to visit in summer for the best chance of making it through the entire trail. Locals can also chance a visit during warm sunny stretches at other times during the year. Adventurous riders can take advantage of jumps along the run-offs and burms on the trail.
Keep in mind that this trail is shared with hikers and Class 3 motorized vehicles. Watch out for wet ruts created by vehicles driving through the trail as these can easily catch mountain bikers unawares. These moderately difficult bike trails are primarily dirt. You will find some gravel roads linking the many trails included in this web-like system. Make a note that many trails are one-way.
Getting There: Blue Ridge Trail System is located about 25 minutes East of Coos Bay. Take 101 South from Coos Bay and turn left onto Sumner Hwy/Coos Bay Wagon Road. After you get through the town of Sumner, OR the road will turn to gravel. Take first paved road left (Blue Ridge Rd #26-12-4.2) and follow for 3 miles up the ridge. Take a right on 26-12-35. Road should split right after you turn. Roads 26-12-35 and 26-12-35.1 form a loop which is part of the trail system. The singletrack trails run along the ridge on the outside of the gravel loop as well as in the interior. Recommended parking is immediately after turning off of Blue Ridge Rd. (26-12-4.2).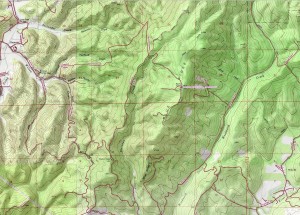 Silt Coos Lake
If you're looking for a fast and exhilarating ride, you'll find no Oregon Coast trail better than the Silt Coos Lake Trail. This short loop is a clean ride that lets you go extremely fast. Many riders find themselves looping this 4 mile trail so they can go back and race through again and again. Keep an eye out for hikers as you're speeding by.
The summer months are the driest time to take this trail. In wet seasons, you may find yourself slowed by muck and mud. However, summer is also a busier time for hikers, so some of your dry speed may be hampered by sharing the trail with visitors on foot.
Getting There: The USFS Siltcoos Recreation Area is about 14 miles north of Reedsport, OR on US 101, or about 7 miles south of Florence, OR. Watch for the signs for the recreating area, and turn east into the parking lot at Siltcoos Lake Trail.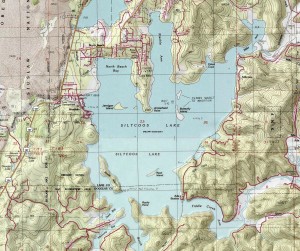 Winchester Trails
The Winchester Trails system offers mountain bikers 17 miles of difficult dirt trails. If you're interested in a challenging ride, this is one of the best along the Oregon Coast. You'll need to keep a sharp eye out for ruts in the road and roots that impede your progress. There are many steep points on this trail as well.
Maintenance on the Winchester Trails is sporadic at best so you never know what challenges you may face. The single track system can be enjoyed by both mountain bikes and motorcycles. Summer and fall are the best seasons for riding the Winchester Trails. Winter and spring are often too wet for this rustic route. Gravel roads connect some of the trails, but these should be used only briefly to get from one bike trail to another. You can set up several loops here and bike through the forests all day.
Getting There:  The trail system is located 12 mi. south of Coos Bay on Hwy. 101.  Stop at milepost 251, and park on the right side of the road, just prior to an uphill with a passing lane.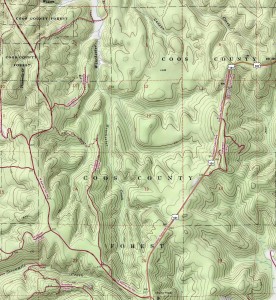 If you're looking for an exciting outdoor activity on the Oregon coast, mountain biking is an excellent option. You're sure to burn off tons of energy on these challenging treks. Florence and Coos Bay have the best trails in the Oregon Coast area. Whether you're a local looking to spend a day outdoors, or a visitor planning a day of mountain biking to get out and away from the camp, you won't be disappointed with the trails in this area.