Comfort
Warmth
Pitchability
Weight
Packability
A year ago I was on a mission to find a solo or two person lightweight backpacking tent. I've used sil-nylon tarps, but I tend to lean more towards a two person tent due to my size and if I want to bring a lady along on my hikes (or maybe a dude). I've had about 10 different tents over the last 10 years, and most of them have been decent, some have been downright useless. I've tried everything from NEMO to Marmot, and I've settled on this tent as my absolute favorite lightweight 3-season over the last year.
Enter the Big Agnes Fly Creek UL2 Tent
…
Here in Oregon, we get a wide variety of weather. From the heat, winds, and snow of Central Oregon and the Cascades, to the rains of Coast, I need to have a tent that can endure it all with lightweight style. Last year I trekked through the High Sierra, Three Sisters Wilderness, the Gorge, the Redwoods, and the Oregon Coast with this 3 season bad boy. It endured temps in the teens, high winds, snow, and an occasional heavy shower. One morning, I woke up with the entire fly thickly coated with condensation ice, yet it still managed to keep me warm and dry when the mercury dropped into the teens that night.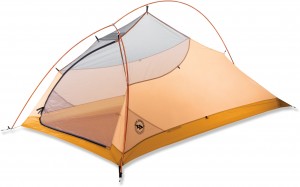 I'm a big fan of gear lofts, cause my socks get stinky. When I've gone with an ultralight tent or bivy sack, I usually don't get the luxury of hanging my foul undergarments out to dry. Now… the Big Agnes Fly Creek UL2 Tent
sports a gammut of gear loops that make for a great spot to dry the socks from, after hangin some paracord. There are also three small pockets in the mesh of the roof and tent walls, with enough room for headlamps and a few necessities.
Breaking camp in the mornings is a cinch, as the tent stuffs into the bottom of my Golite pack like a small blanket. At approximately two pounds this two person tent is barely noticeable in my pack. I looked high and low for a lighter option for two, but this tent trumps them all. It won Backpacker Magazines 2010 Editors Choice award for it's "merely compact, not coffin tight" ability that makes you leave that bivy sack at home. I can sit up while inside with my tent mate lying supine next to me.
The single-hub pole design, even though a little awkward for packing, makes pitching in high winds very easy. DAC Twist clips attach the tent body to the pole frame for quick and easy set up. The poles are made of TH72M Aluminum, and are durable as all get out. I accidentally sat on them while they were in the front pocket of my backpack and they did not show even a dent.
If you're looking for an even lighter setup… Buy the footprint when you buy the tent. Leave the actual tent at home and just bring the fly and the footprint. If bugs are not an issue for you, you can get this tent to sub 2 pounds in a flash.
The rainfly and seamless floor are made of high-tenacity ripstop nylon and are polyurethane- and silicone-coated for waterproof durability. You will need to be a little more careful with this tent, as the fabrics are thin and the zippers are small. I would highly suggest purchasing the footprint or using a homemade one (tyvek house sheeting works great), as the tent floor is rather thin. The seams are taped with waterproof, solvent-free polyurethane tape. This saves you the time of seam sealing it yourself.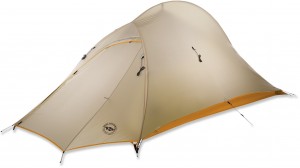 The tent walls are made of woven nylon mesh. This makes for excellent ventilation, but can also cause the tent to be a little drafty with the fly on in even breezy conditions.. When the weather is nice though, you'll have a fantastic view of the stars and sunrise with the fly off.
Big Agnes Fly Creek UL2 Tent
or the Big Agnes Fly Creek UL1 Tent
are the best shelters that I've come upon in a long while that gives me everything I want. It's lightweight, it has several pitching options like other tents, is pretty durable considering, has a vestibule, and… Oh yeah, did I mention it weighs next to nothing? Split between two people, it is almost as if you aren't even carrying a tent at all.
The Red links are commissioned based, and take you to REI if you'd like to purchase this little beauty.
For you Engineers…Here's the detailed specifications data…
Best use-

Backpacking
3-season
2-person
2 lbs. 2 oz.
0.96 kilograms
27 ounces
2 lbs. 10 oz.
6.5 x 19 inches
86 x 52 inches
218 x 132 centimeters
28 square feet
7 square feet
38 inches
96.5 centimeters
1 door
1 hubbed pole set
Aluminum DAC Featherlite NSL
9.0 millimeters
Ripstop nylon/mesh
Coated ripstop nylon
Coated ripstop nylon
Freestanding tent

Seasons-
Sleeping capacity-
Minimum trail weight-
Minimum trail weight – met   
Fly / footprint pitch weight-
Packaged weight-
Packed size-
Floor dimensions-
Floor dimensions – met –
Floor area-
Vestibule area-
Peak height-
Peak height – met-
Number of doors-
Number of poles-
Pole material-
Pole diameter-
Canopy fabric-
Floor fabric-
Rainfly fabric-
Design type-